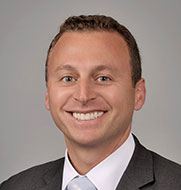 Joshua Frank MD
Orthopaedic Surgeon
Specializes in Sports Medicine
Dr. Joshua Frank specializes in the orthopaedic care of sports-related injuries as well as arthroscopic and reconstructive surgery of the shoulder, elbow and knee. He also provides comprehensive orthopaedic treatment for various conditions and traumatic injuries.
A native of the Philadelphia region, Dr. Frank completed both his undergraduate studies and his medical school training at the University of Pennsylvania. After medical school, Dr. Frank moved to New York City to complete a residency in Orthopaedic Surgery at New York University – Hospital for Joint Diseases. During his residency he was elected to be an executive chief resident and completed an elective trauma rotation at Harborview Medical Center in Seattle, Washington. There he handled major orthopaedic injuries and learned the latest techniques in the treatment of fractures and multi-trauma.
After residency, Dr. Frank completed a fellowship in Sports Medicine at the renowned Kerlan-Jobe Orthopaedic Clinic in Los Angeles, California. His focus was on the care of injured athletes and their return to function. Additionally, he learned advanced arthroscopic techniques as well as open reconstructive surgeries of the shoulder, knee and elbow. During his fellowship, Dr. Frank participated in the orthopaedic care of the Los Angeles Lakers, Dodgers, Kings, Avengers (Arena Football), Sparks (WNBA), Galaxy (MLS), Riptide (Lacrosse), USC Football, and the Anaheim Ducks. In addition, he served as a team physician for many high school and college football teams.
Throughout his training, Dr. Frank has had a focus on research. He has published articles in peer-reviewed journals and presented research at national meetings. Dr. Frank is a member of the American Academy of Orthopaedic Surgery, the American Orthopaedic Society for Sports Medicine, and maintains an academic appointment at NYU-HJD as an assistant clinical professor.
Office Location(s):
Coastal Orthopaedics, PC
761 Main Ave
Suite 115
Norwalk, Connecticut 06851
Location Phone: (203) 845-2200
Location Fax: 203-847-1940
Accepting new patients:
I am accepting new patients.
Primary Specialty:
Orthopaedics
Secondary Specialty:
Sports Medicine
Passed sports medicine sub specialty certification exam as part of the American Board of orthopedic surgery
Undergraduate Education:
University of Pennsylvania, College of Arts and Sciences. B.A.: 1997
Medical Education:
University of Pennsylvania, School of Medicine M.D.: 2001
Fellowship:
Kerlan-Jobe Orthopaedics Clinic, Los Angeles, CA: 2006
Sports Medicine Fellowship
Academic Appointments:
Event Physician

2003

42nd World Archery Championship. New York City. July 2003

Stadium Physician

2003

Shea Stadium. NY Mets. 2003 Season

Event Physician

2002

Alvin Ailey Dance Theater New York, NY. 2002-2003

Team Physicians

2002

Truman High School Football Team. Bronx NY. Fall 2002

Orthopaedic Representative

2001

NYU House staff Council 2001-2004

Anatomy Instructor

2000

University of Pennsylvania,

2002-2001
Affiliations:
American Academy of Orthopaedic Surgeons: 1997
Resident Member
Physicians for Social Responsibility: 1997
1997-2007
Publications:
Glenohumeral Internal Rotation Deficits in Baseball Players with Ulnar Collateral Ligament Insufficiency

2008

Repair Site Integrity After Transosseous Equivalent / Suturebridge Rotator Cuff Repair

2008

Revision Surgery for Failed Elbow Medial Collateral Ligament Reconstruction

2008

The Posterolateral Corner of the Knee

2007

Lower Extremity Sports Injuries in Adolescents

2007

Does Obesity Influence the Outcome After the Operative Treatment of Ankle Fractures

2007

Osteochondral Fractures of the Distal Lateral Femoral Condyle

2006

Helical Blade versus Sliding Hip Screw for Treatment of Unstable Itertrochanteric Hip Fractures

2006

Post-Thrombotic Syndrome After Asymptomatic DVT Following Total Knee and Hip Arthroplasty

2006

The Efficacy of Magnetic Resonance Imaging in Pediatric Cervical Spine Clearance

2002